"RMC" embroidered cinch sack backpack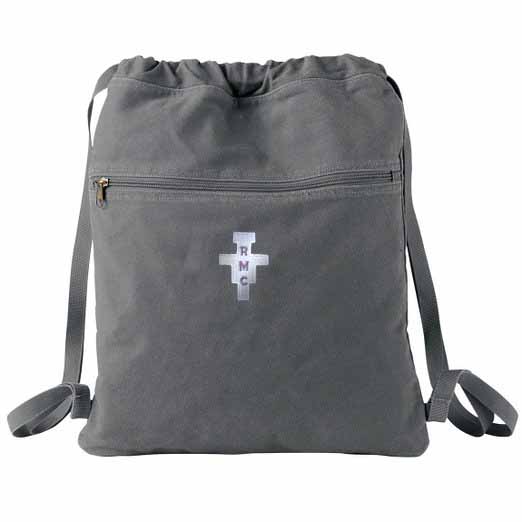 "RMC" embroidered cinch sack backpack
"RMC" embroidered cinch sack backpack
Shown in charcoal with light grey embroidery
100% cotton canvas

personally embroidered for you and shipped from New Jersey

design by Proud Catholic Company for The Community of the Franciscan Friars of the Renewal
Tag us in your wear on Instagram or Facebook @proudcatholiccompany - Evangelize with us!
If someone were to ask you what the "RMC" stands for on your t-shirt you could possibly say: The symbol of "RMC" is more than a symbol, it is a story. It is part of the story of St. Francis of Assisi. He was born in the little town of Assisi in 1182. His father was a wealthy cloth merchant and St. Francis had great dreams of becoming a knight. Those plans were ruined after spending a year in prison. Afterwards, he was praying in an abandoned church and the Lord spoke to him. St. Francis actually heard with his ears our Lord Jesus says: "Francis Rebuild My Church which is falling into ruin." So the "RMC" means "REBUILD MY CHURCH." In imitation of St. Francis all Franciscans work at building up the body of Christ and wear a medieval looking garb, or a "Holy Habit." Jesus invited St. Francis to REbuild. He only heard the invitation because he was praying from the heart. Pray from the heart and see what your "RE" will be. God bless! - Br. Simon, CFR (Franciscan Friars of the Renewal) www.franciscanfriars.com
A portion of all proceeds will support the mission of the Franciscan Friars of the Renewal.